Teaching remotely isn't easy. It requires a different mindset in order to meet the needs of your students when you teach remotely. This week (and next) I have the privilege of leading a training entitled "Tips & Tricks for Teaching Remotely."  Below are some of the highlights of the presentation that I think will help you on your journey of teaching remotely.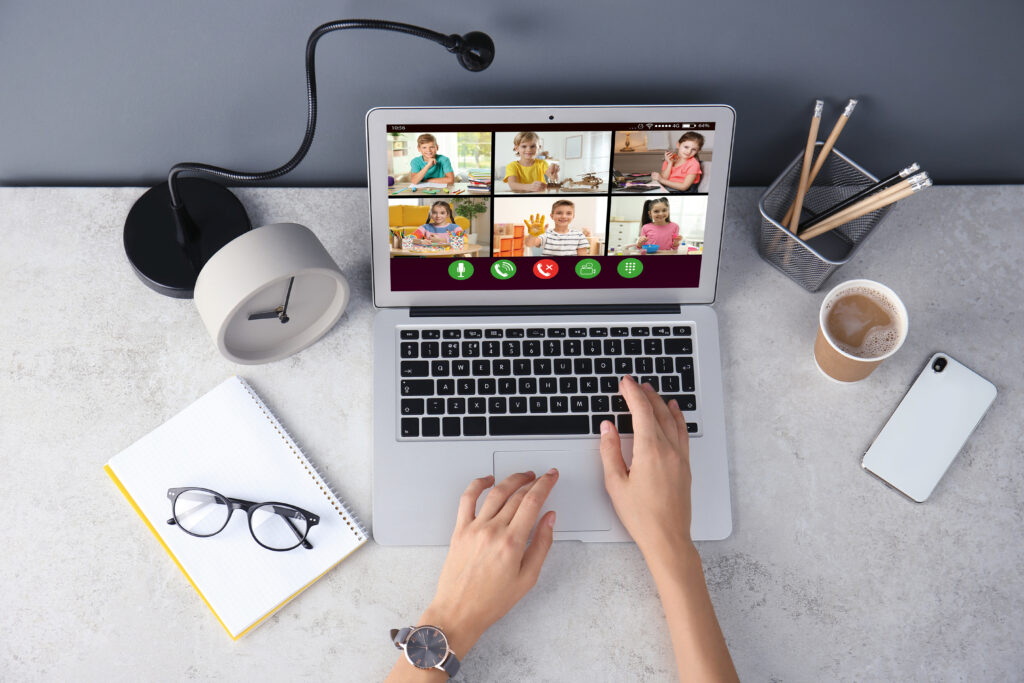 Teach the Tools and Programs:
Provide explicit instruction on how to use the digital tools and programs.  Don't assume students know how to use them.  While many students participated in the Spring, not all did.  Just like you would teach physical procedures in your classroom, teach the digital ones as well.  Also, don't be afraid to reteach…kids (and adults) need it.
Set Expectations:
Set clear expectations for live instruction. Review this every time you meet. Using visual images can be helpful for younger students.  I created these visual slides to help students remember online classroom expectations.
Scheduling:
Plan a consistent schedule that works for your age group.  Have a regular routine.  Make sure to include breaks in your schedule between live sessions.
Show Your Face:
Your students want to see your face!  Studies have shown that students respond better to video instruction when they can see the face of their instructor.
Be Specific:
In both your oral and written instruction and directions make sure to be specific.  The more specific you are, the fewer questions you will need to answer in the future.
Interactive:
Be as interactive as possible in your instruction.  Provide multiple opportunities for engagement in a fun and interactive way.  Some great digital programs that support this include EdPuzzle, Flipgrid, Seesaw, Pear Deck, Padlet, Wakelet, and many others. Interactive Google Slides activities also provide great opportunities for engagement.
Collaborate:
Don't think you need to reinvent the wheel.  Share digital materials with grade-level partners.  However, make sure the material is effective before using it with your students.  Not everything online is equal in quality.
Boundaries:
Set boundaries and clearly communicate when you will respond to parent communication.  It's important for parents to understand when you are unavailable to respond due to live instruction.  It's also important to not overwhelm yourself with responding to messages at all hours of the day.
Feedback:
Providing feedback is not only a professional responsibility, it is also best practice.  Many of the digital tools that require student response have places to provide feedback.  Make sure to communicate with families how they can access the feedback.  Programs like EdPuzzle and Google Forms provide instant feedback.
Document Cameras:
Document cameras can be used on Google Meet to provide instruction.  Don't have a document camera?  Use your phone or tablet as a document camera instead.
Choose the Best:
Multiple sites/programs have similar functions.  Start using the one(s) you're most familiar with and slowly add more once students are comfortable.  Don't overwhelm families with too many programs all at once.
Keyboard Shortcuts:
Keyboard shortcuts are your friend!  Simply knowing ctrl+c means copy and ctrl+v means paste can save you time.  Try adding a new shortcut to your vocabulary every week or so.
Grade-Specific Ideas:
We Are Teachers has a page that provides grade-specific ideas for K-5th grade teachers.  Click here for more ideas or check out my teacher tips articles.
Feel free to contact me if you have specific questions about how to effectively teach remotely.  I'd love to share ideas!
Related Articles: